Guest Post – Olivia Goodreau, Founder, LivLyme Foundation
March 6th, 2020
Always check for ticks
By Olivia Goodreau, Founder of LivLyme Foundation
This is a photo of me and my brothers. It is my last Christmas as a healthy kid, taken more than nine years ago.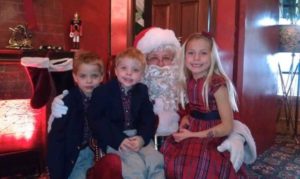 If I could go back and whisper in my ear, I would say:
"Your life is about to change forever from a tick bite that you will not see. You are going to get so sick. You will not be able to go to school. You will lose your best friends. Doctors will tell you, "you are making it up for attention". You will have to stop playing all your sports. You will spend weeks in bed. You will start blacking out.
Your brain will get foggy. Your limbs will feel like wood. You will feel left out. They will call you "contagious". You won't get into the high school you thought you wanted to go to. Your life as you knew it will be gone forever because of a tick. But you will have to be strong, fierce, and patient. You will need to believe in yourself and your symptoms. You need to know, you are NOT crazy. You will have a disease that some people don't believe in. But that doesn't matter because you need to get better.
You will be thankful for your parents who knew you were sick. You will be thankful for your 54th doctor who is working on getting you better. You will be thankful to the Lyme community who you consider family. You will be thankful to the scientists you will meet. You will be thankful for Nutella that helps get your pills down. You will be thankful for your new friends & new school that has your back.
It won't be an easy journey but this is your journey."
Please believe in your loved ones when they are sick. Advocate for them through the medical system. No one wants to be sick. They need your support.
I started the LivLyme Foundation when I was 12 to help others by providing financial grants to children in desperate need of medication and treatments and to fund grants to scientists for better testing, better treatment and a cure for Lyme and tick-borne diseases.
When I was 13, I noticed a tick on my dog Mo.  I saw it start to burrow into Mo's leg.  That night I looked online and found that there was no app to help see what ticks are in your area.  So I founded TickTracker, a free global app – available in multiple languages, that helps track, report, and educate people about ticks. Users can log and track tick sightings and bitings on an interactive map. They can also upload photos of ticks or of a rash. TickTracker's goal is to help scientists track tick populations and ultimately aid in their research for a cure for Lyme and other tick-borne diseases.  The app now has Tickmojis – a way to have fun and laugh while promoting awareness of a very serious threat.
A number of U.S. government agencies have rallied around the promotion of the free app to the public.  TickTracker was showcased at the White House and at the U.S. Census Bureau as part of  "The Opportunity Project" (TOP) Demo Day 2019, an initiative of the U.S. Department of Health and Human Services; it was also showcased at the U.S. Department of Labor's "Tech Day." And TickTracker was selected as a top-five innovation by the American Society of Tropical Medicine and Hygiene, recognized for its efforts to "sharpen infectious disease prediction, improve prevention, or accelerate response to an outbreak."
We plan to continue developing the app so it's available in many languages. It's already out in English, French and Spanish and has users worldwide.
I'm also talking with the Bill and Melinda Gates Foundation about ticks on livestock in developing countries and the devastation it is having on these emerging economies.
I appreciate the opportunity to share my story with people in the UK and hope to visit later this year.  The UK's tick problem is very serious. We must work together to stop the spread of tick-borne diseases globally and find a cure.